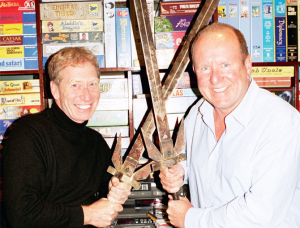 Almost every UK RPGer's who started in the 70s/80s, have these to men to credit. Steve Jackson (left) and Ian Livingstone (right) where the founders of Games Workshop and brought D&D and many other RPGs to these shores, as well as authoring the original Fighting Fantasy books.
Last UK Games Expo they did a talk called "An Illustrated History of Games Workshop and Fighting Fantasy" which my friend Paul of Cthulhu recorded for yog-sothoth.com recorded for your listening pleasure.
Also worth noting this online interview with the duo, covers pretty much the same territory.